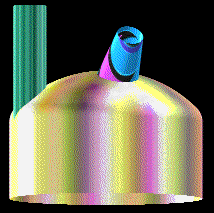 What is PROGEO plus?
PROGEO plus is the sheet design software for every manufacturer of HVAC and folded sheet metal parts and for designers of geometrical penetrations from sheet metal. PROGEO plus is built modular: Basic modul (Starter-Kit), separate extensive librarys and the Graphical Modeler to design own geometric models.
PROGEO plus allows to create complicated unfoldings quick and easy.
PROGEO plus is available for all WINDOWS platforms. The DXF-Interface can be used for generating the drawing of the unfolded plate in any CAD or NC-software.
Data for production
Connection of PROGEO plus to all common CAD-systems and NC-programming systems is provided by the built in DXF interface. Only some examples: AutoCAD; AutoCAD LT; LOGOCAD; PRONC and other systems are including DXF-interface. Interface parameters for layer, linetype and color are setable for outer and inner contour data as well. Not only get the 2D development including bending lines into your CAD-system but furthermore drop the 3D data to CAD to get access to the CAD power - for example to create plots in different views or to create a photo-realistic rendering picture. PROGEO plus calculations have a very high precision, users can set accuracy to ensure best results. The program considers production know how wherever possible: some examples are the unlimited defination of position for neutral line, high sheet thickness or variable types of connections like insert, mounted and more.
Which developments/unfoldings are available?
PROGEO plus knows no limit of "available modules"-with more than 1.000.000 creatable model variants PROGEO plus goes to new dimensions!
All common bodies from bifurcated pipe, manifold, round/square to pyramid or spirals are selectable inside of the substantial librarys. Individual adaptations or even definition of total new geometric models can be done in some minutes inside of PROGEO plus: Just use your mouse to select the desired base structure of the new model. For example a round to square as the new main body and a pipe connection at left and a square pipe connection at the opposite side. Following use the property editor window to give each part of your model the optimal design. Create for example different sheet thickness for each sub-body, cut angles, inclination or number and position of seams. PROGEO plus will even support later enhancement or changing of once saved models to define new variants.